Kajabi 30 Day FREE Trial Details + Hidden $997 Bonus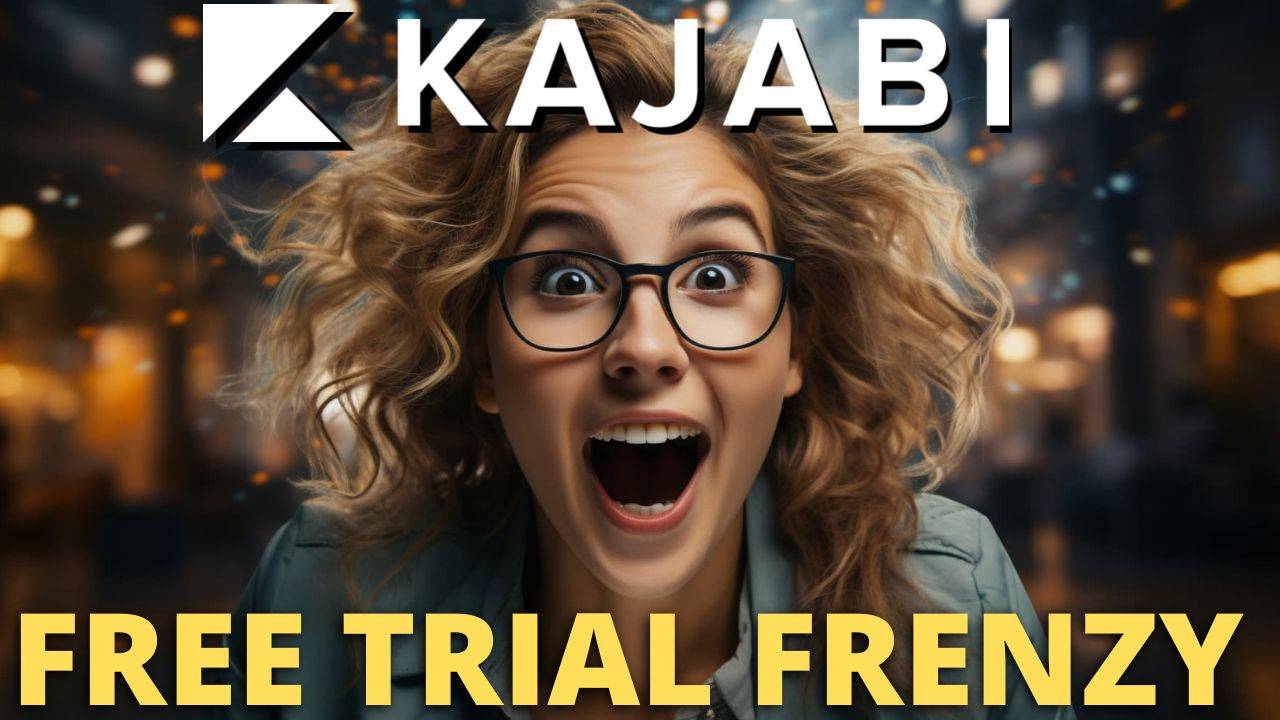 Are you hoping to start an online business but don't know how to build a website, market your products and services, or easily collect payment for them?
Well, you're not alone!
In today's digital age, it can seem like everyone has their own website or online business, but did you know Kajabi offers an extended 30 day trial instead of their normal 14-day free trial?
It's true!
Now you can test drive the amazing features of Kajabi without having to purchase one of their plans upfront!
If you're ready to take the plunge, then keep reading and I'll review the features offered with the new Kajabi 30-day free trial special offer.
I'll even touch on some tips to help you launch your very own online business as quickly as possible during your free access.
But first, what is Kajabi going to help you to achieve?
Kajabi is a comprehensive online platform that allows users to easily create and manage their digital products, courses, and memberships.
It offers an array of features from streamlined webinar hosting capabilities to creating and managing content to automated workflows.
The platform also incorporates powerful marketing tools for increased engagement with customers and clients.
With Kajabi's 30-day free trial, users can explore the platform's features before committing to a paid subscription.
From creating beautiful websites to drip campaigns and customer service integrations, Kajabi has everything you need to successfully market, sell, deliver, and support your products and services. And with the 30-day trial, there's no risk in trying it out!
How the Kajabi Free Trial Works
The Kajabi free trial is a great way to test out the Kajabi platform and see if it's right for you.
While there's no Kajabi free plan, the Kajabi trial gives you full access to the platform and all of its features for at least 14 days (or more if you use the special offer on this page),.
This way you can explore and experiment with everything that Kajabi has to offer. During this time, you'll be able to create your courses, add content, customize your branding, and more.
At the end of your trial period, you'll be able to decide whether or not Kajabi is a good fit for you.
If it isn't, then you won't be billed for anything — but if it is, then you can easily upgrade your plan right away. There are no hidden fees or pesky contracts keeping you stuck in something if it doesn't work out - meaning that the the free trial really is risk-free!
Benefits of Kajabi as an Online Course Platform
Kajabi is a powerful online course platform that offers a variety of benefits. With Kajabi, you can create and manage courses, host content, and execute marketing campaigns with ease. You can also take advantage of their 30 day free trial to explore all the features they offer.
Their unlimited marketing emails feature allows you to send out promotional emails to your contacts quickly and easily. You can easily segment your email list and target specific customers for different campaigns. This allows you to personalize each campaign for maximum impact.
Creating evergreen email funnels is simple with Kajabi's easy-to-use tools. Automated email sequences make it easy to set up campaigns that run on autopilot for maximum efficiency in minimal time. With Kajabi's help, you can focus on crafting exceptional content without getting bogged down in manual tasks like emailing or typing up individual messages every time.
Kajabi is an amazing platform that offers powerful features to help you create successful online courses and nurture your leads effectively through automated marketing campaigns. Take advantage of their 30 day free trial today and see what this powerhouse of an online course platform can do for you!
Step-by-Step Guide to Setting Up a Kajabi Free Trial Account
Getting a Kajabi free trial account is a straightforward process. To get started, simply go to the Kajabi website and follow the simple steps outlined below:
Step 1: Click on "Get Started" and select "30-Day Free Trial."
Step 2: Enter your basic information, including your full name, email address, and password.
Step 3: Enter your payment information (you won't be charged but this filters out people who might be trying to abuse the features of the platform for bad purposes etc) so that you can activate your free trial.
Step 4: Review and agree to the terms of service and click "Start Free Trial."
Once you've completed these steps, you'll be ready to start making use of the many features available on Kajabi!
This includes creating courses, automating marketing processes, tracking sales data, hosting events, creating forms or surveys for gathering feedback from customers or students, managing team members and more.
You can even test out different product options with no obligation during your trial period!
Making the Most of Your Kajabi 30 Day Free Trial Period
Making the most of your Kajabi 30 Day Free Trial Period is essential if you are to get the full benefits of using the platform.
During this period, it's important to use all the features and services provided by Kajabi in order to get an accurate gauge of whether it will work for your business.
You can do this by taking advantage of their email marketing tools, trial options and coaching programs which will give you plenty of time to see how well Kajabi meets your needs.
Additionally, exploring the other useful features such as forms, integrations, themes etc., will help you familiarize yourself with the platform's capabilities before committing to an ongoing plan.
This free trial period is a great opportunity to learn more about Kajabi and discover if it has what you need for long term success!
Tips for Succeeding with Your Kajabi Business in 30 Days or Less
Starting your own business can be daunting, but with the Kajabi 30-Day Free Trial, you can get the jumpstart you need and start achieving success quickly. To make sure you succeed in your Kajabi business within the 30 day window, here are a few helpful tips:
First and foremost, take an honest look at yourself and identify your best skillset. What do you excel at? Focus on what makes your product or service stand out from the rest and go all out marketing it.
Next, create a plan of action with achievable objectives so that you stay focused and retain motivation. This could involve setting up a website, setting up social media accounts or starting up an email campaign.
Be sure to measure both short-term successes (such as newsletter signups) and long-term goals (such as revenue targets).
Finally, don't forget to measure progress along the way - this will help to keep track of progress and ultimately determine whether or not your strategy is working. Keep tweaking any areas where necessary until you are reaching that set target within the 30 day period!
Common Mistakes to Avoid During Your Kajabi 30 Day Free Trial
When signing up for the Kajabi 30 Day Free Trial, it's important to avoid certain common mistakes. First, when creating your account, you should make sure you have all of your information ready and that your information is accurate. You don't want to have any issues with verification or payment processing.
Second, even though it's a free trial, you still need to give valid payment information when setting up an account. This way, if you decide to stay with Kajabi after your trial period is over, everything will be ready for billing.
Finally, read through the terms and conditions carefully. It's important to know exactly what you're getting into before proceeding.
Be aware of any renewal policies so that you won't be surprised at the end of your free trial period. These simple steps will help make sure your Kajabi experience goes as smoothly as possible!
What About the Kajabi 28 Day Trial?
A slightly shorter special offer that Kajabi also provides from time to time would be Kajabi's 28-Day Free Trial. It also provides a great opportunity to dive into the platform and get a feel for what it can offer.
This alternative risk-free trial is another amazing way to explore all of the features and functionalities that Kajabi has to offer without any financial commitment. It even includes the 28-Day Hero Challenge, which can take your online business to the next level!
Overall, the various Kajabi Free Trials give you access to all of their features, regardless of which one you are able to secure during their limited time promotions.This way you can really learn what it can do for your business.
With the risk-free trial period of this special offer lasting 28 days (it's a 4-week challenge), you also have plenty of time to decide if Kajabi is right for you without having to make any quick decisions.
Additionally, Kajabi's customer service team is always here to help answer any questions that come up during the 28-day challenge that is held for this free trial period.
Frequently Asked Questions (FAQs) about the Kajabi 30 Day Free Trial
How much is Kajabi per month?
When it comes to Kajabi, you have the option of either subscribing to the annual plan or the monthly subscription.
If you choose the annual plan, you can get Kajabi at a discounted rate and save up to 40%. On the other hand, if you'd like to check out Kajabi first before committing, then you can take advantage of their 30-day free trial.
But how much is Kajabi per month?
The standard monthly price for Kajabi is $149/month but with our special offer, you'll get access to all features for just $119/month, which is a savings of 20%.
And not just that - if you purchase an annual subscription then we'll offer another 20% discount on top of that. So don't wait - go sign up for your Kajabi subscription today!
Is there any alternative to Kajabi?
Kajabi is a popular and powerful online platform for businesses to build websites, launch marketing campaigns and store content.
However, if you're looking for an alternative to Kajabi that can help you do similar tasks, then you should definitely check out ClickFunnels and Kartra. Both these platforms offer a variety of features that can assist with website building or launching promotions.
The best part is that they both offer a 30-day free trial so you can test the platform without committing any funds!
Plus, if you feel like Kajabi isn't quite right for you or your business, then there are other great options available such as ClickFunnels and Kartra. So there's no need to worry if Kajabi doesn't suit your needs - there are plenty of other options available.

Which platform is better for an online course?
When it comes to setting up an online course, many people are looking for the best platform to get started. Two of the leading contenders are ClickFunnels and Kajabi 30 Day Free Trial.
Both have unique advantages and offer a variety of features that you can use to set up your online courses.
ClickFunnels is a great choice if you want to easily create professional-looking sales pages, landing pages, and membership sites with just a few clicks.
It also integrates with many other tools such as webinar software and email marketing platforms.
On the other hand, Kajabi's 30 Day Free Trial is perfect for those who want to quickly create their own online course site with modern design elements and automation tools for enrolling students and issuing certificates.
Additionally, it includes advanced features such as detailed analytics and quizzes/surveys, so you can track your students' progress.
Ultimately, which platform is better for an online course depends on your needs and preferences. If you want an easy-to-use system that will help you instantly set up beautiful sales pages or landing pages quickly, then ClickFunnels might be your ideal choice.
But if detailed analytics and automation tools are more important factors for you then Kajabi's 30 Day Free Trial is a great option.